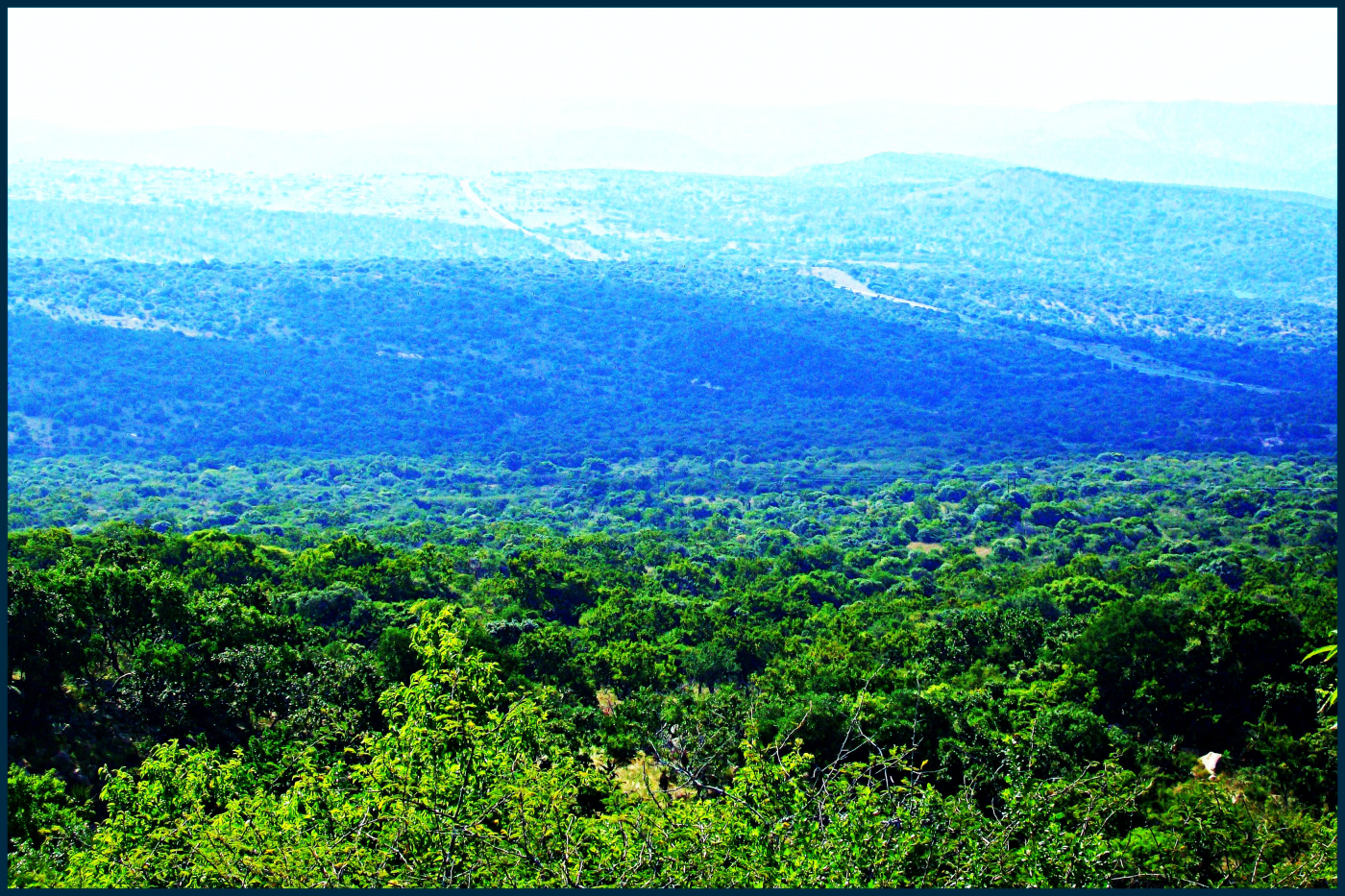 ---
CURRENT UPDATE - PAGE 2

TRAVEL AS AN INTERFAITH ACT
---
This page - Zambia, Mozambique & South Africa 2020
---
Embrace Foundation is a non-profit, educational foundation set up to create better understanding between people of different religions, cultures, traditions and world philosophies.

Embrace Foundation works to bring leaders and scholars of world-wide religions, cultures and philosophies together by sponsoring forums, seminars, lectures and developing an international exchange program. Embrace Foundation is particularly concerned with reaching the world public through the media.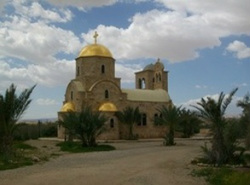 Donations
Embrace Foundation is an all volunteer organization. All donations go directly to programs.

Embrace Foundation does not and has never given permission to any outside organization to solicit or receive contributions on our behalf.

All donations should be made to Embrace Foundation only via Paypal or by mail. All donations are tax deductible. A receipt will be emailed to you. Please click on the Pay Pal link below to Donate.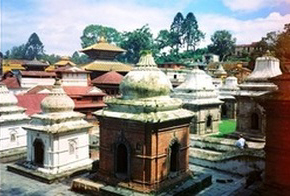 Travel As An Interfaith Act
Embrace encourages all who can do so, to learn about other traditions and cultures by traveling as "Grassroots Diplomats." We hope that people every where become life long students of our world-wide humanity.

" In every man there is something wherein I may learn of him, and in that I am his pupil."
R.W.Emerson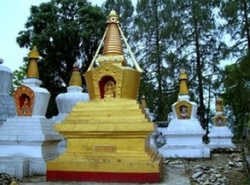 Embrace Humanity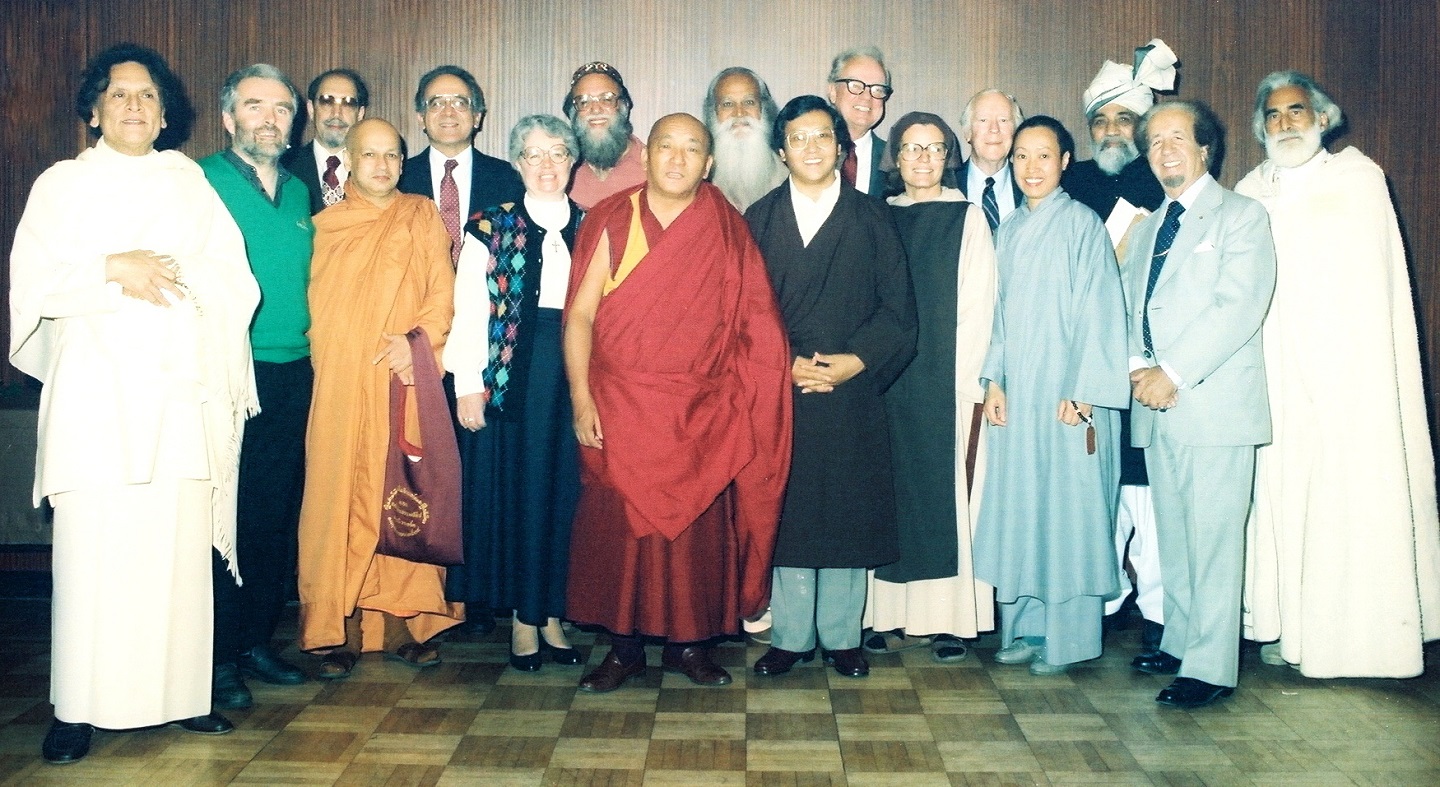 ---
Great Visions - TV
Guests are: Swami Satchidananda &
the Rt. Reverend Dean Parks Morton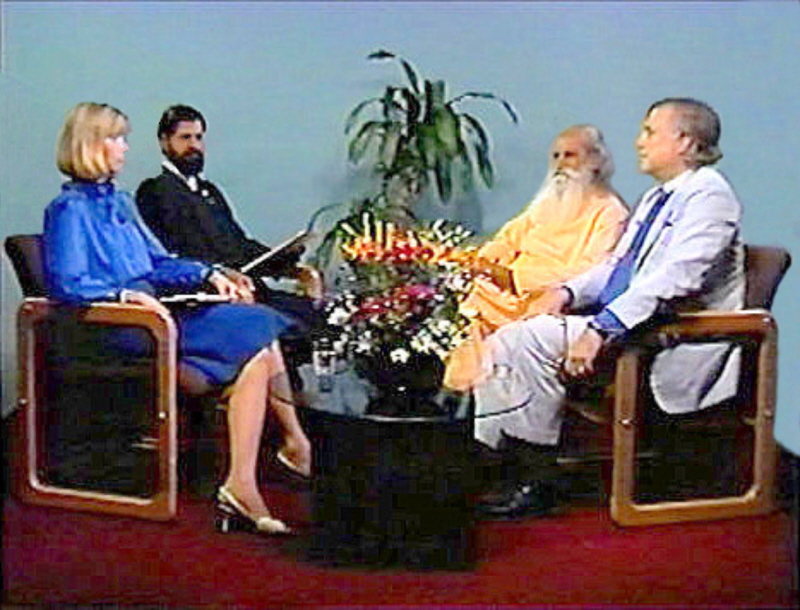 Embrace Archives
Limited Editions Gallery
Umrah - Jordan
Embrace Sacred Places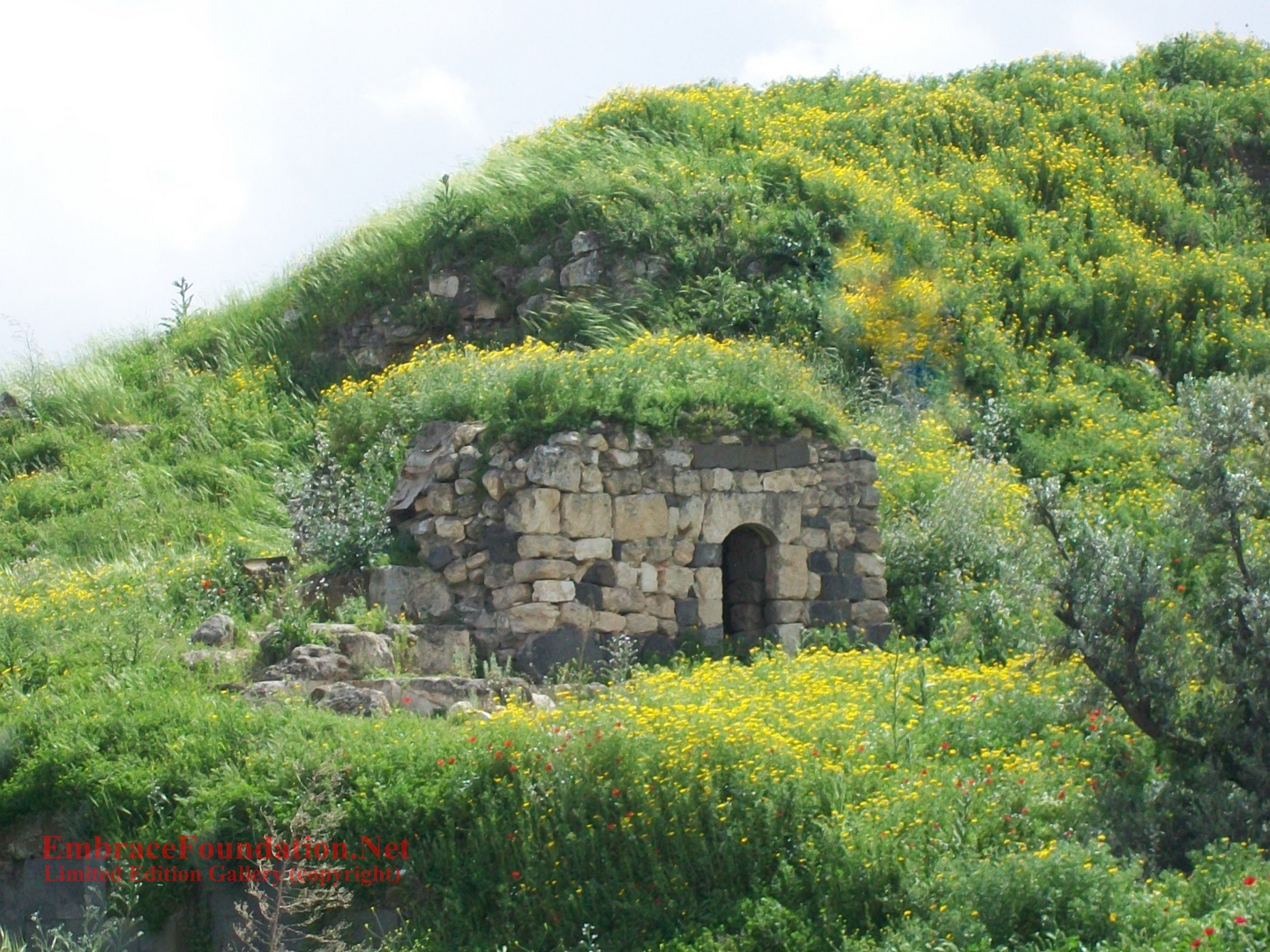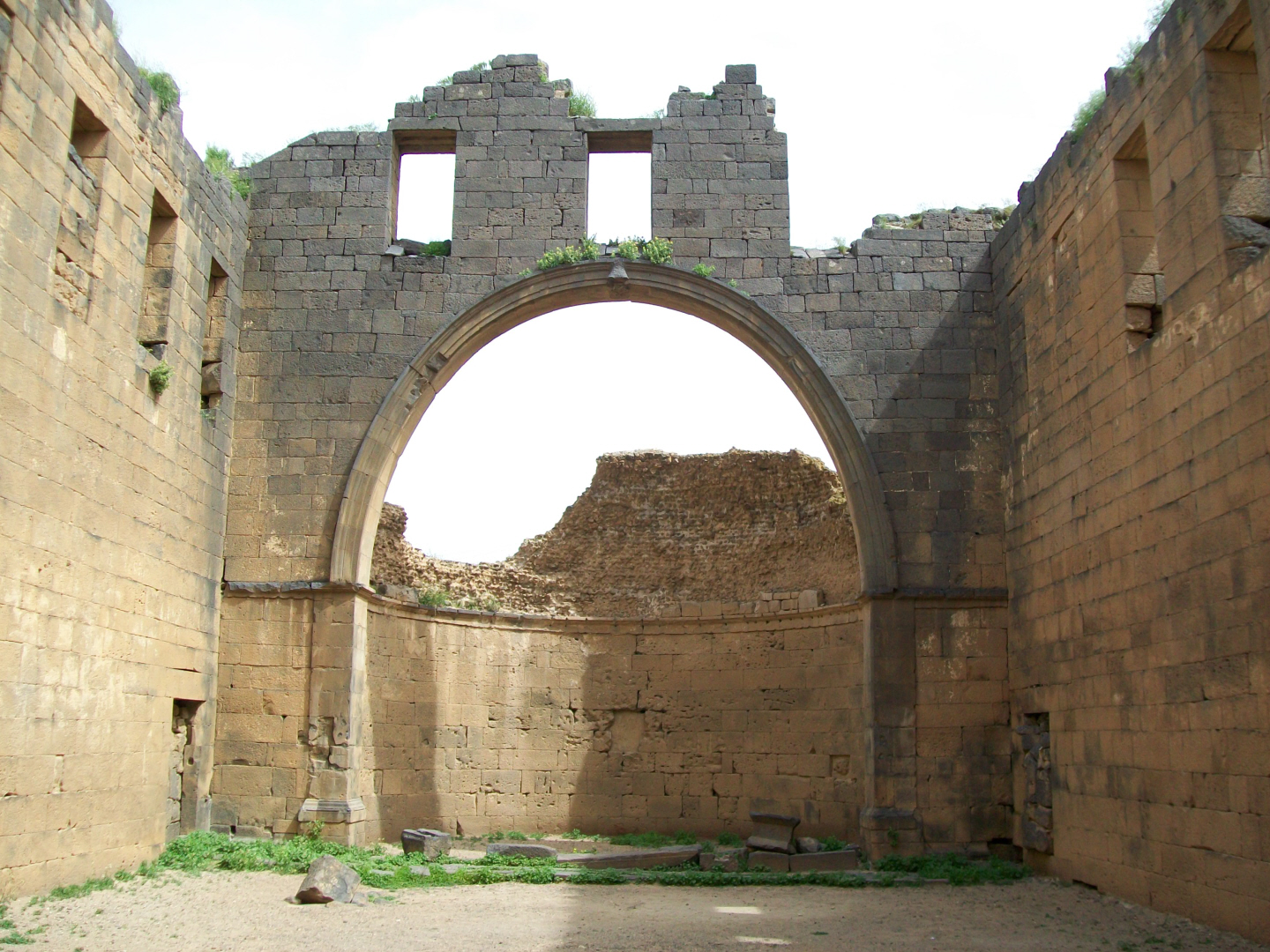 Monastery of Bahira - Syria
Embrace Foundation Universal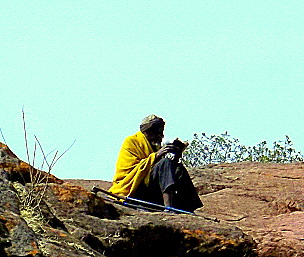 Monk Reading - Ethiopia
Thank you for making a donation.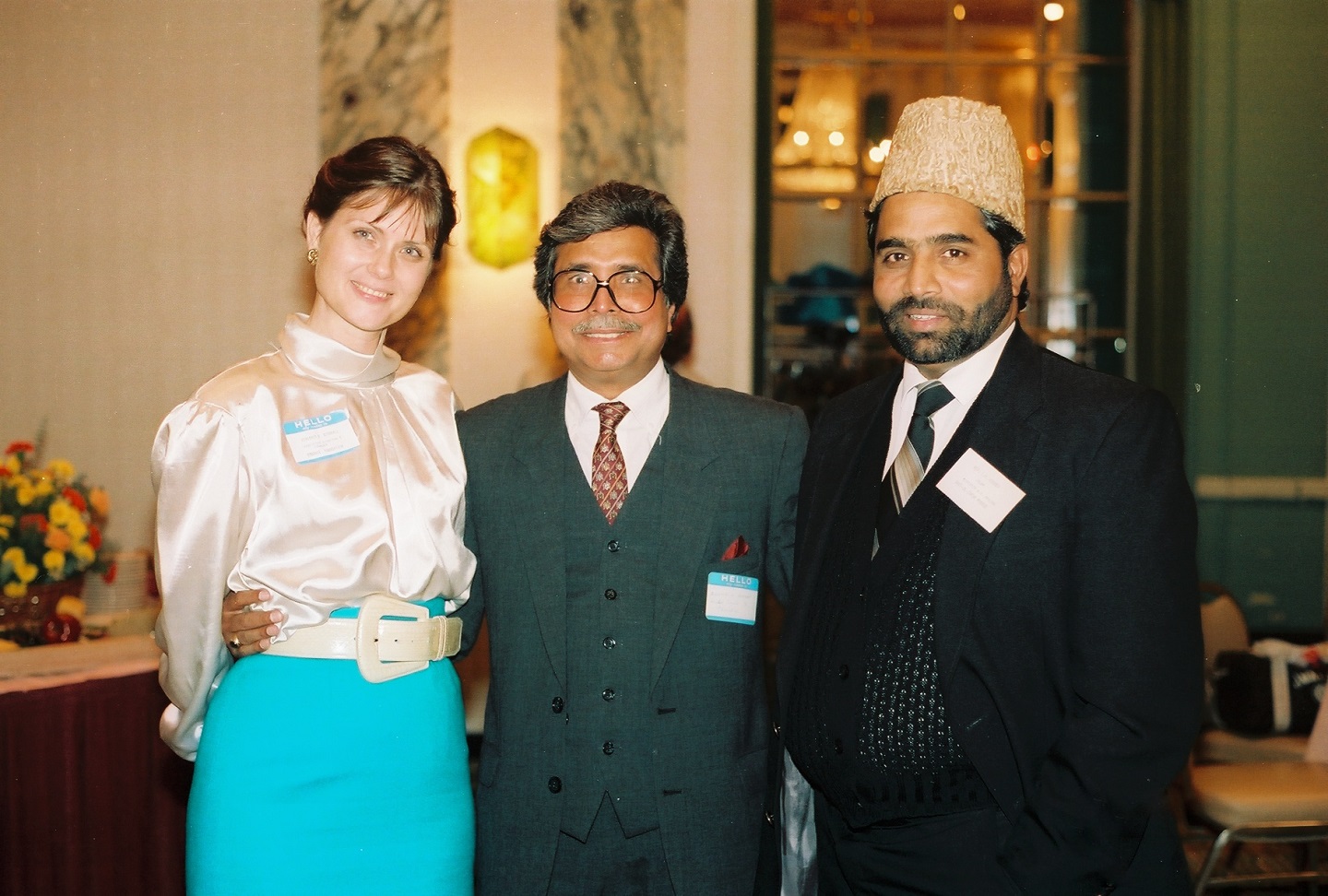 Virginia (Embrace), Dr.Anwar Barkat (World Council of Churches, UN) & Imam I.H. Kauser
Embrace Archives
Great Visions TV
Anne-Stuart & Ajata (Hosts), with Rabbi Gelberman & Dr.Jayaraman
Anne-Stuart & Ajata (Hosts), with Rabbi Carlebach & Imam Kauser
Sacred Mosi-ou-Tunya (Victoria Falls) – Zambia / Zimbabwe
T
raveling to Islamic, Jewish, Christian and Traditiional Sacred Places
Plus a Visit to A Humanitarian Helping Women in Zambia To Be Self-Sufficient
This CURRENT will follow the exact order of the itinerary of the Embrace Founders. Therefore, it will start with Morocco, go to Tunisia, then Egypt, Zambia, on to Mozambique and South Africa.
ZAMBIA
MOZAMBIQUE
As always, the agenda for the trip was:
To meet with religious leaders, spiritual leaders and scholars throughout the areas we travel.
To encourage grassroots interest in organizing intercultural and interfaith events in their respective communities.
To photograph as a record, places considered sacred by the people living in these countries.
To photograph precious anthropological/ archaeological sites that are vulnerable to war and ecological damage.
Embrace Foundation International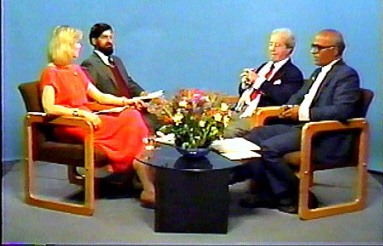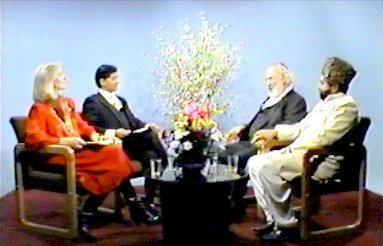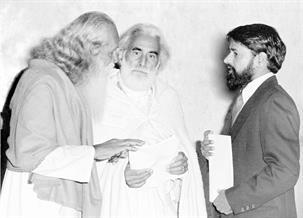 Swami Satchidananda, Pir Vilayat Inayat Khan & Ajata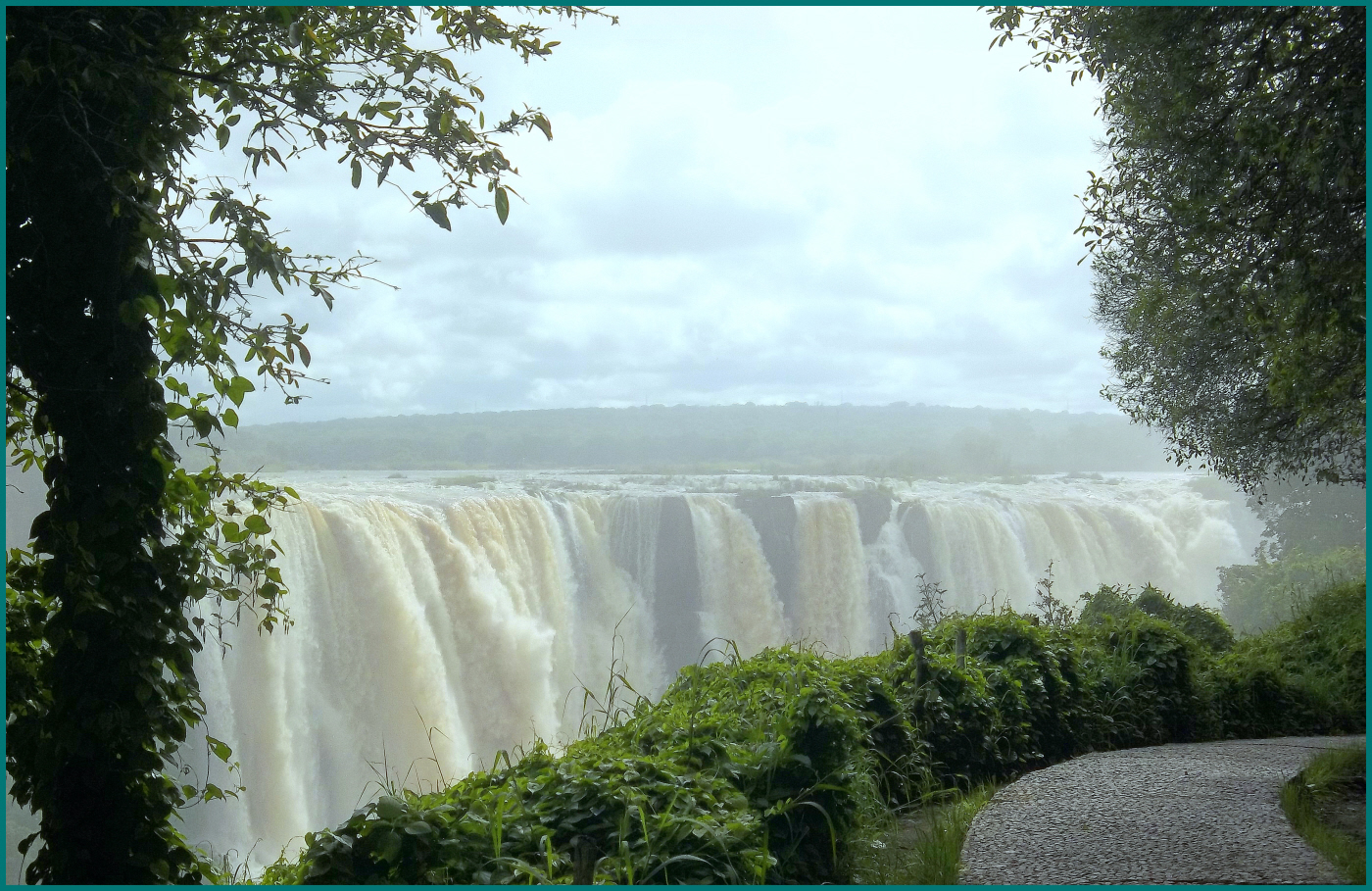 Elke Kroeger-Radcliff M.A., Msc. RN, Founder (and volunteer) of the Tiko Community Centre came over with the St. Francis Hospital to help out as an RN 20 years ago. She was widowed and free and saw a need in the Katete area of Zambia. That need was helping women become financially independent because poverty is rampant in the area, as was HIV and AIDs. Truck drivers coming over the border from Mozambique, many of them from South Africa took advantage of the woman's poverty and gave them AIDs.

Another problem is child marriages between older men and children.

Although you may see a bill board announcing that U.S. Aid and some British Goverment agency have a program with the local "Chief" to stop child marriages, there is as usual, no evidence whatsoever that any American money has been used for any purpose except to line political pockets. Ajata and Virginia have seen several supposidly U.S. Aid sites in different countries, but they are always abandoned, or don't exist at all. Informed people they spoke with in Mozambique nodded their heads and had witnessed the same thing.
Children Waiting to Attend Mass at the Igreja da Misericordia Catholic Church -Mozambique Island
Igreja
da Misericordia Catholic Church -
Mozambique Island
The Entrance of this small Mosque is entirely covered by a Giant Tree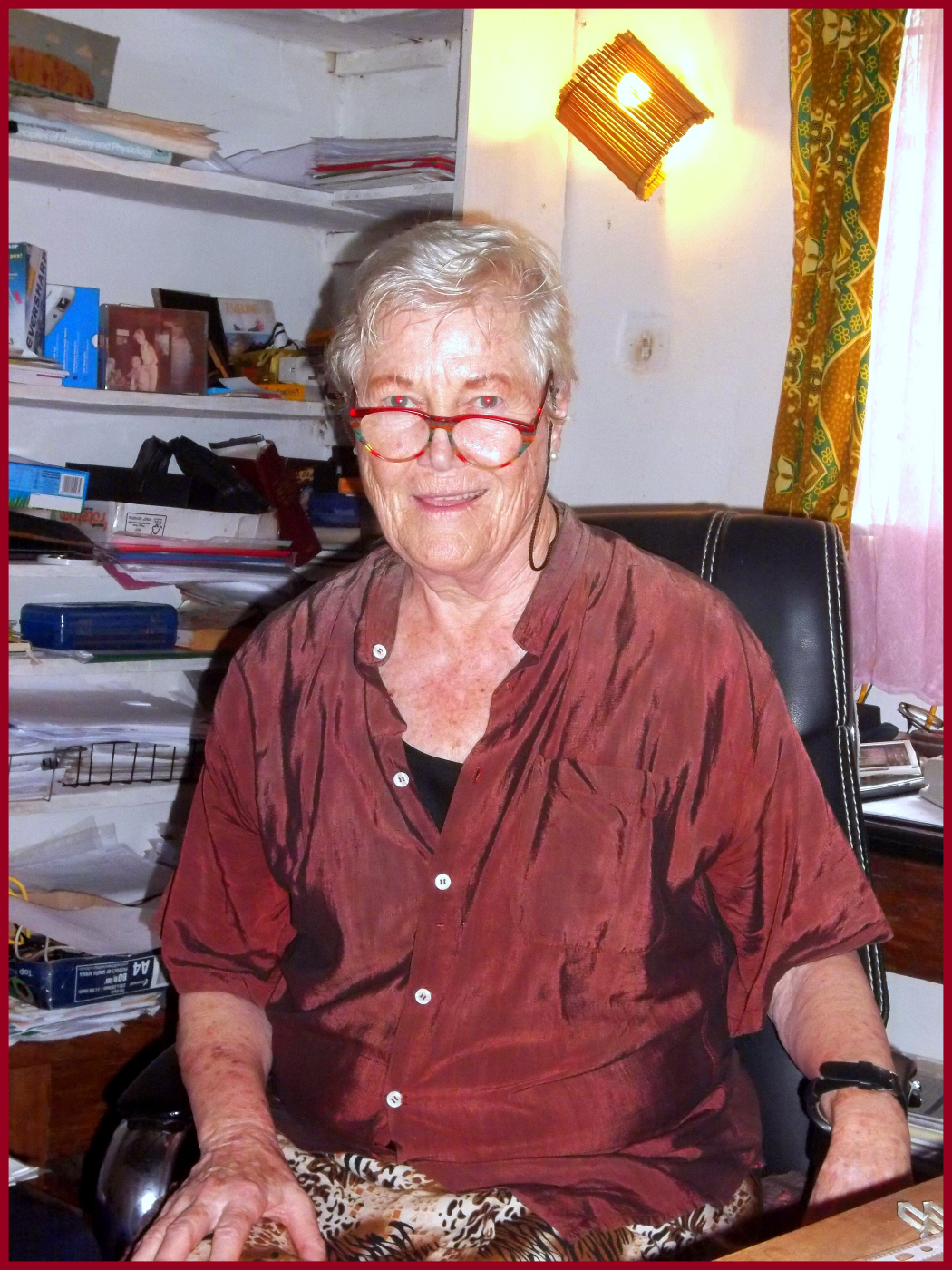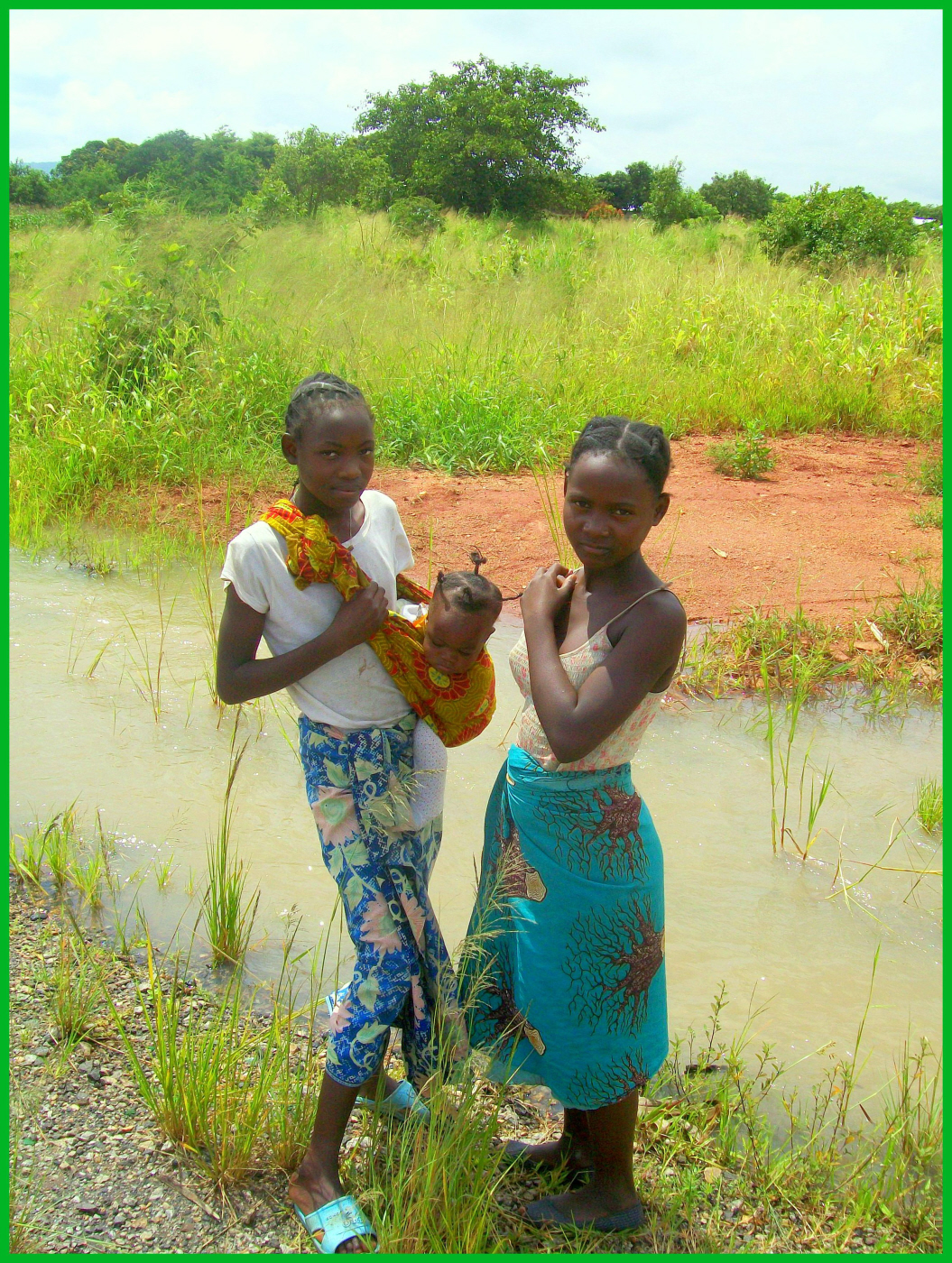 Take a look at these beautiful children. They have been exploited and they will probably never get the chance to go to school or perhaps to even learn to read and write or ever again have fun playing.

The Tiko Commuity gives many kinds of classes and teaches organic farming and produces many items for sale so perhaps they will be able to develop their potential with help from the Tiko Commuity Center. However, if they have a gift for astrophysics or perhaps engineering, the door seems closed
.
Another problem is child marriages between older men and children
Elke arranged to have us meet Mr. John Phiri Thpaz and ask him questions about what are commonly called "witch doctors" in Zambia.

There are strictly herbal healers who know vast amounts of information about the healing quality of plants. There are also people who go into trance (usually by drumming.) John is of the later catagory and is also a church bishop. In the West they are usually called trance mediums, in various indigionous communities around the world they have other titles.

In Zambia, many are legitimate, many are not.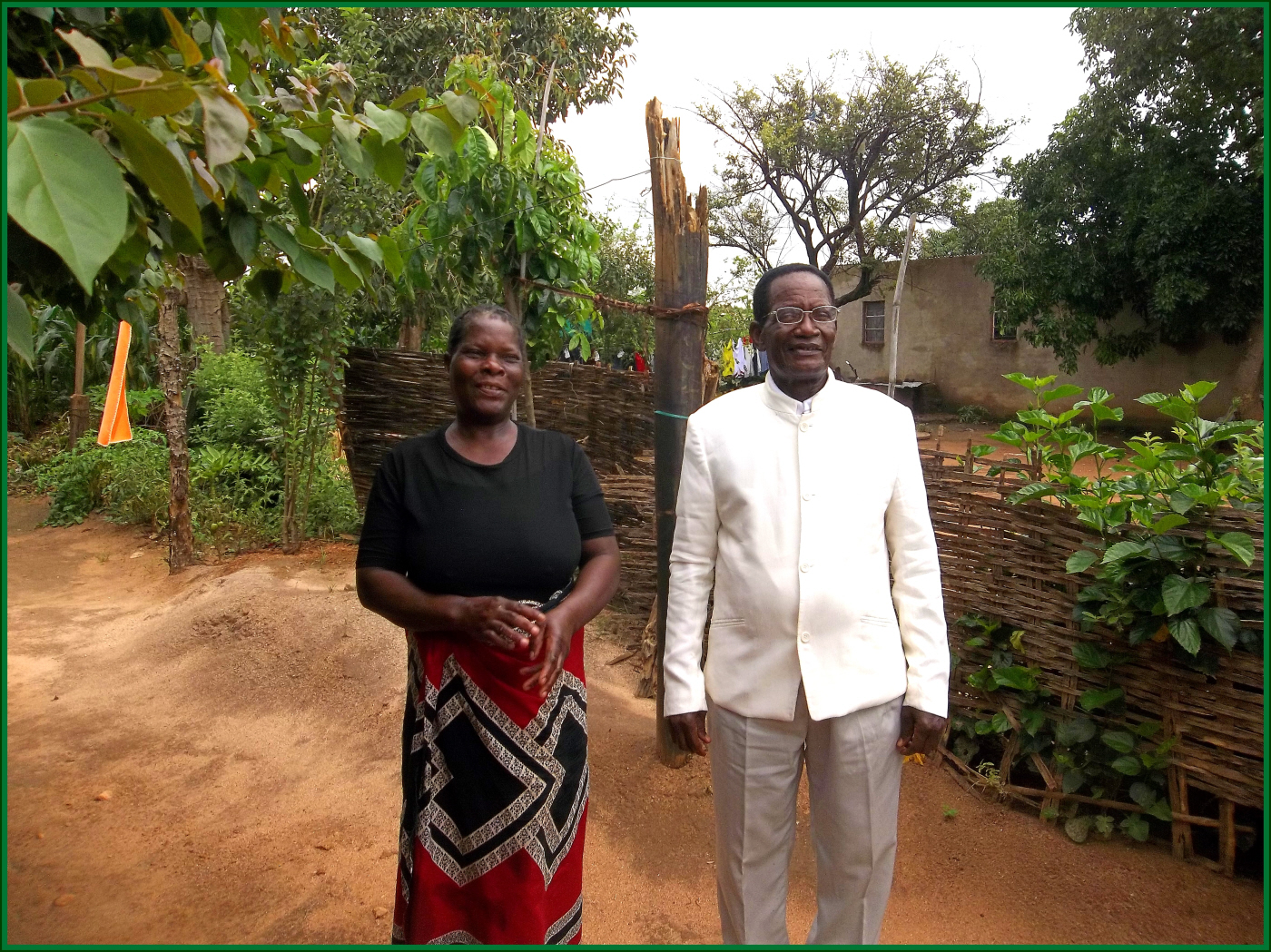 Mr. John Phiri Thpaz (a Bishop in Church and
a Traditional Trance Healer) and Mrs. Thpaz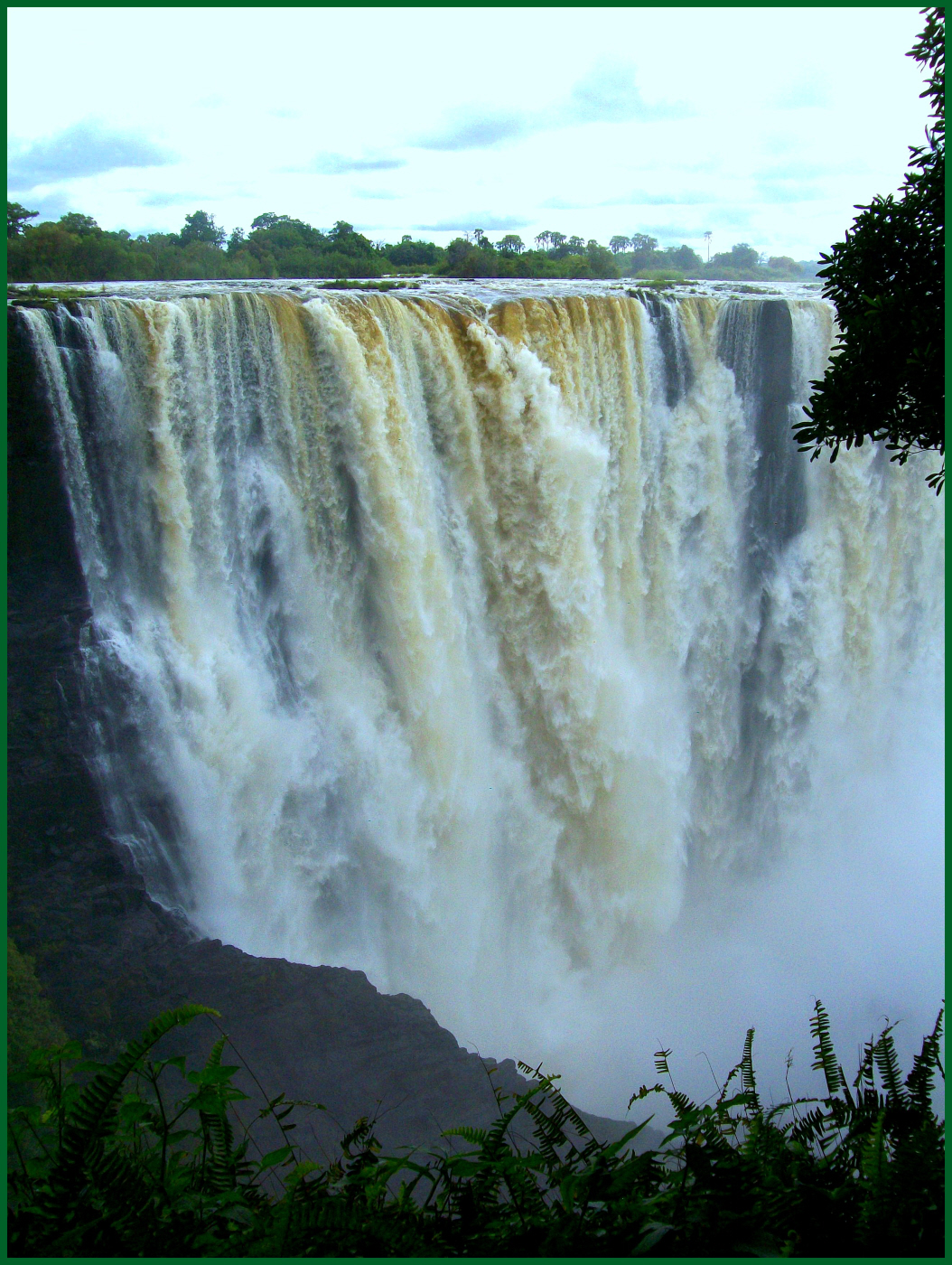 Zambia is beautiful and largely undeveloped with many traditional people of close to 80 different traditions and tribes. All get along with each other inter-marry and are proud to be part of such a peaceful and environmentally rich country.

If Western Feminists want to do something truely meaningful, they should try dedicating themselves to helping the children and women in the Eastern part of Zambia. Elke is getting older and she is looking for more dedicated w
omen.
Another View of Sacred Mosi-oa-Tunya – Zambia / Zimbabwe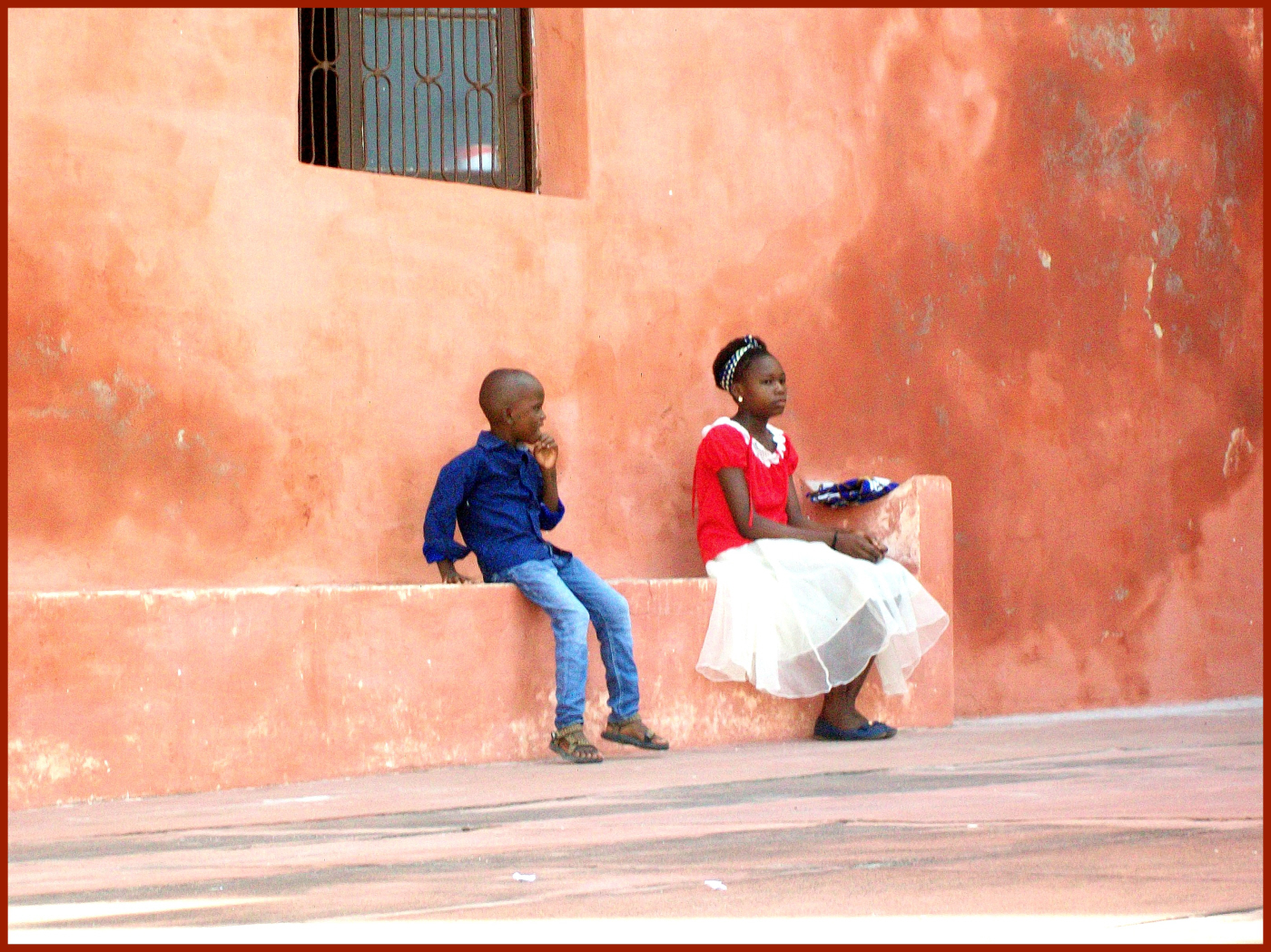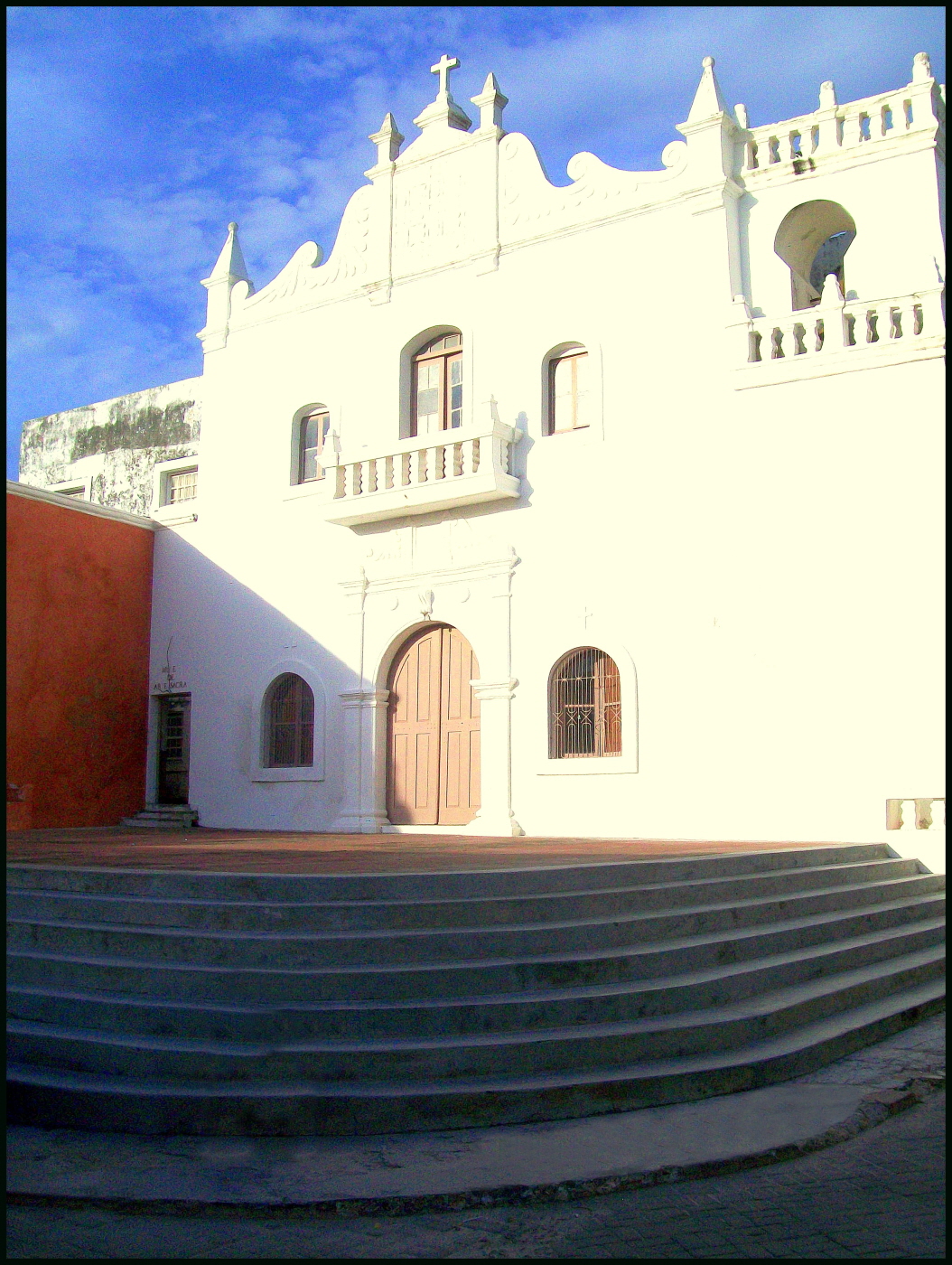 Mozambique Island (Ilha de Mocambique) is a UNESCO Heritage Site with many colonial buildings from the time of Portugese domination.

The government however has made it extremely difficult for people to renovate buildings or set up businesses on the island that would attract visitors and keep them there for awhile. In fact, many of the old buildings are falling apart and the Ajata and VIrginia agreed that of the many UNESCO Heritage Sites they have visited all over the world, this is the one in the worst condition.

It does have beautiful hotels but restaurants and cafes are very limited. Almost no stores exist except those that service the 14,000 people that live on the island and their needs are simple. The church within the fort, the Chapel of Nossa Senhora de Baluarte which is touted as tourist attraction is in deplorable condition.

However the Igreja da Misericordia Catholic Church is active and in good condition and conducts a charming mass on Sundays.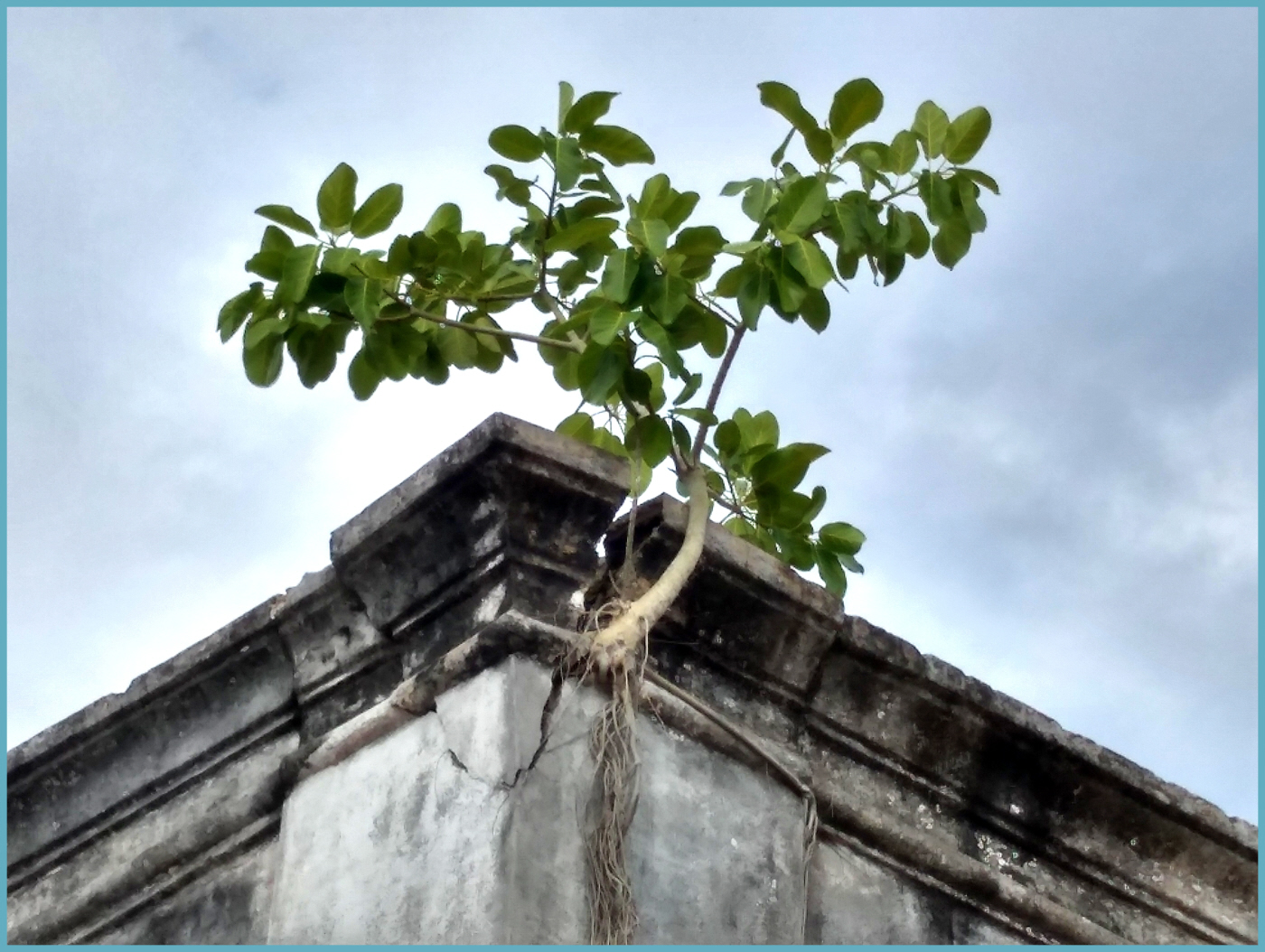 Buildings on Mozambique Island in Deporable Condition
Ajata with Priest at Lakshmi Narayana Temple
(Temple Location approx 300 yrs) Mozambique Island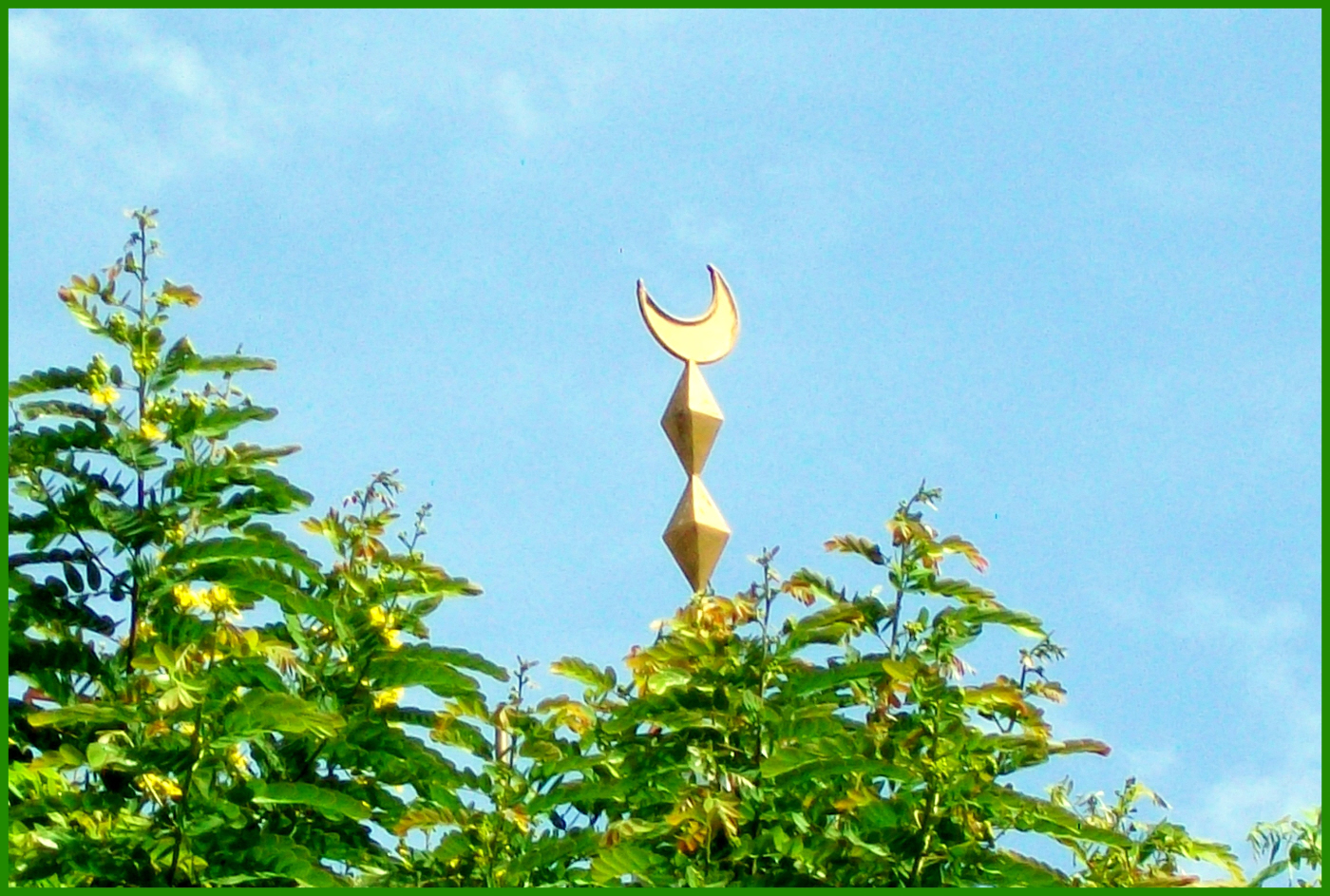 Nampula, Mozambique is a wonderful place to get to know the people of Mozambique. The people of all three major religions in town, as well as Traditional Believers, get along beautifully as a community. In fact, Tulsi Ram, a Hindu cook at one of the hotels (hired by a Muslim owner) asked us to tell the story of their Interfaith city and insisted we make a trip to the mosque.

There are also traditional craftsmen who carve wonderful stories out of a dark wood. They generally sit under trees near a small cultural museum.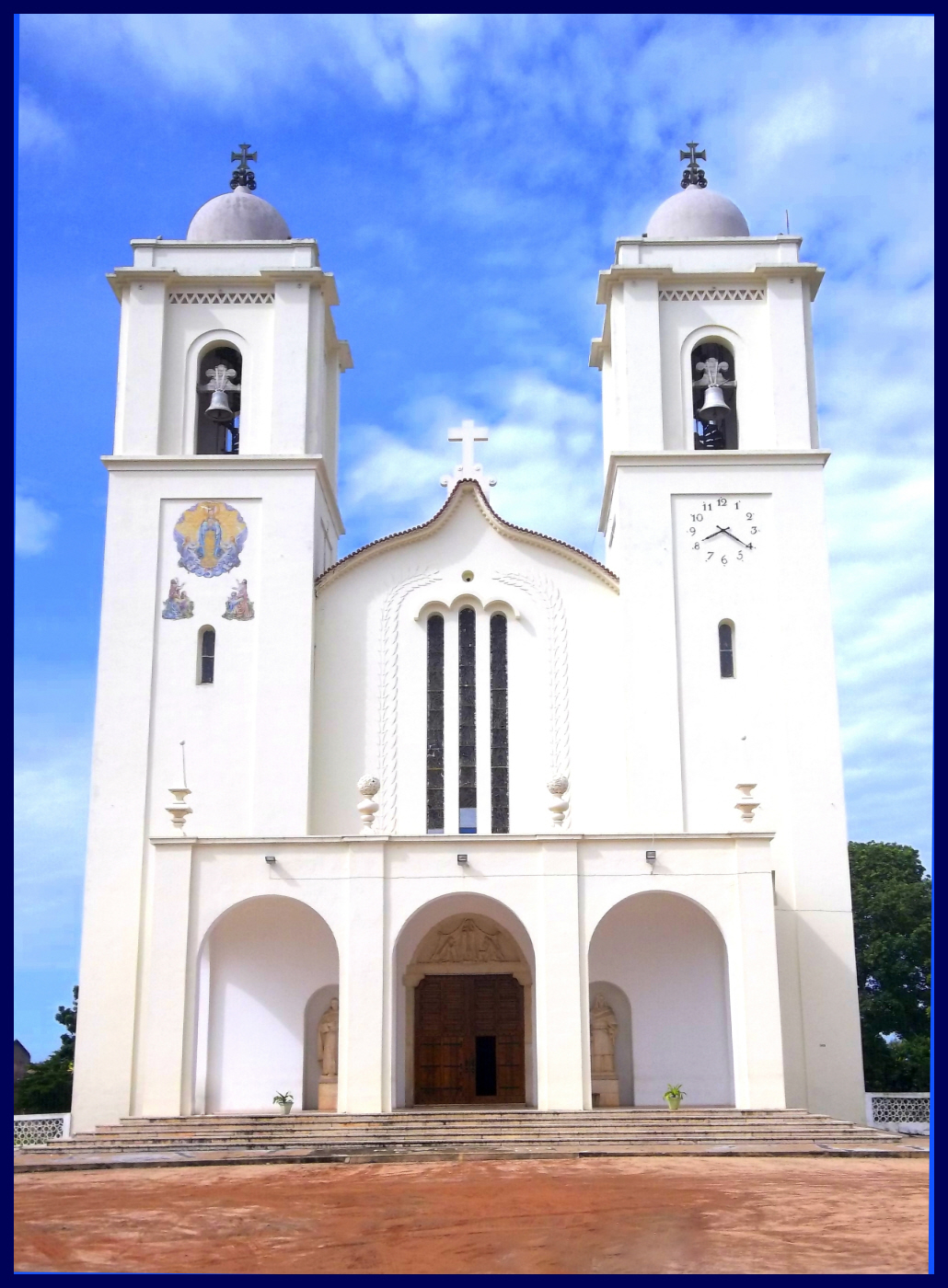 Our Lady of Fatima Catholic Church – Nampula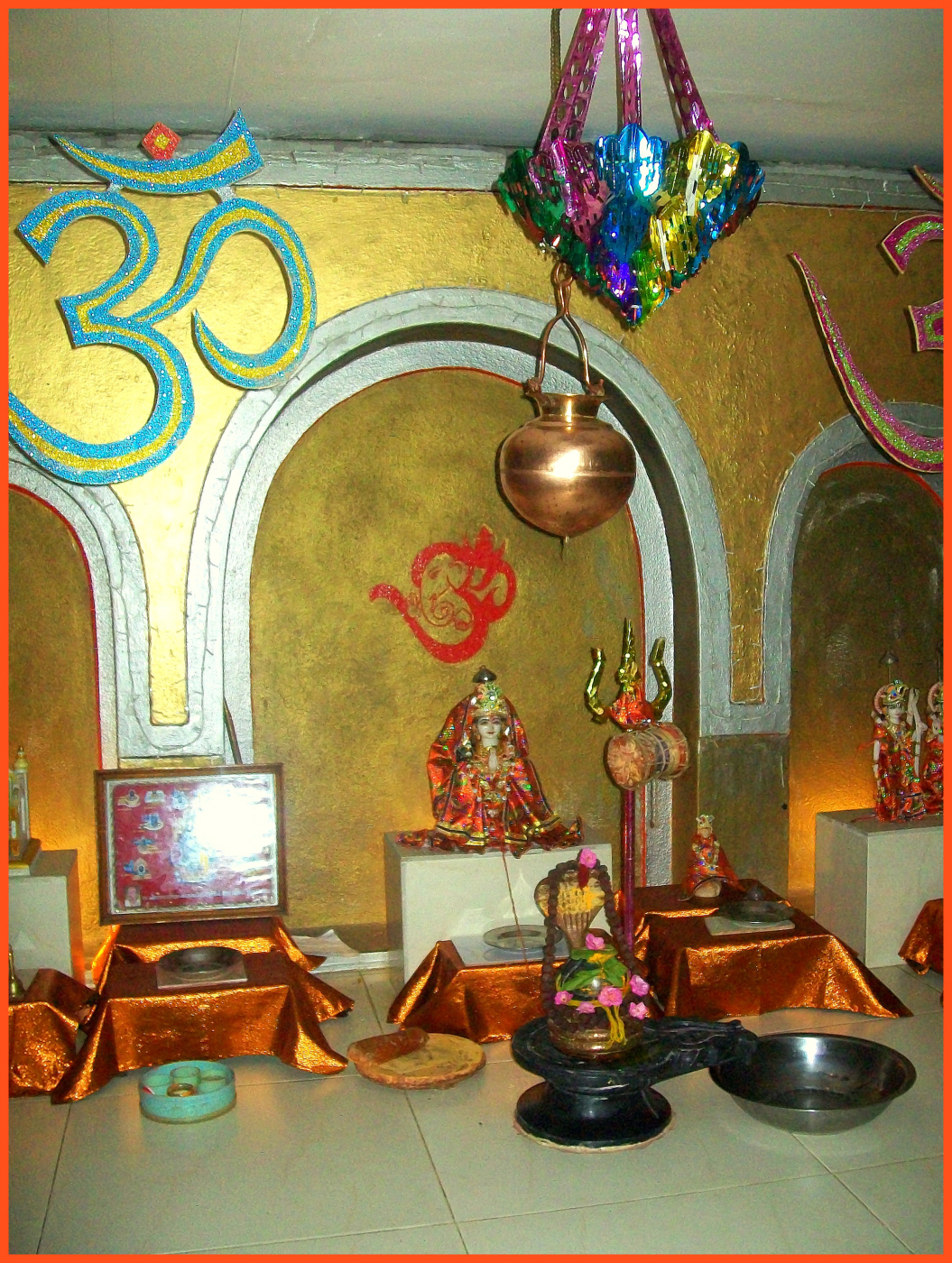 The situation in the Tete area is somewhat different and we will write about the criminal activities there in TRAVELING IN MOZAMBIQUE under CELEBRATE HUMAITY.

Even in the Tete region, one will find many bright spots and for the Embrace Founders, it was Pastor Mike, a smiling, big-hearted human being and two delightful young people called Francesca and Whiskey working under the most difficult situation.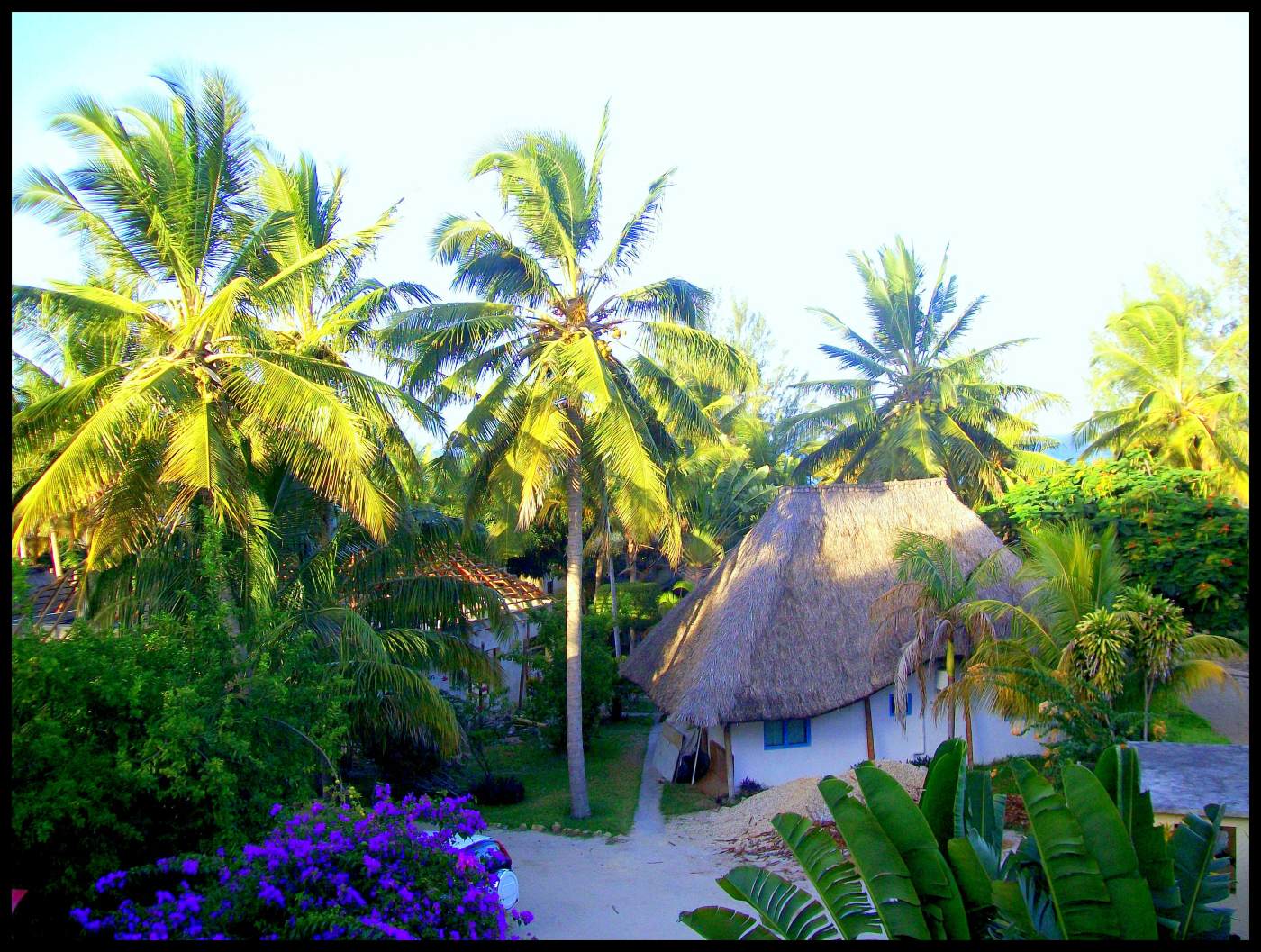 Coastal areas in Mozambique are famous for their beauty. This is a shot taken from a loft at Samira Inn and cottages in Villankulas. A southern coastal area of Mozambique. You can read a little more about it in
TRAVELING IN MOZAMBIQUE
(when it is ready) under
CELEBRATE HUMANITY.
The Nampula Hindu Temple
the Day of Shivatri Celebrations
SOUTH AFRICA
Emakhhosini -Sacred Valley of the Kings - Buried here are:
King Zulu, Phuaga, Mabeda, Ndaba, Jama, Senzanga Khona, Dinuzulu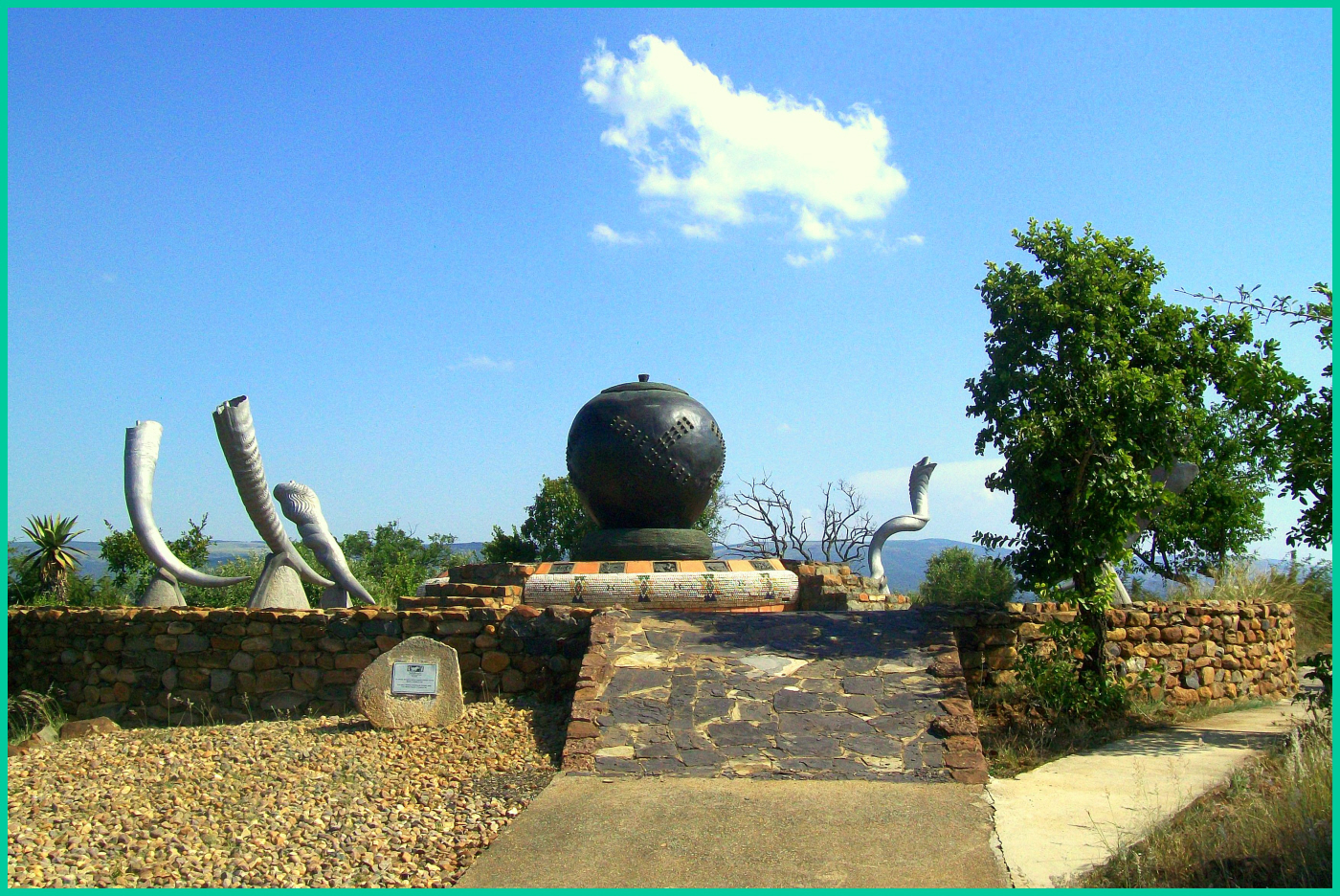 Memorial Khamba Pot - (7 Horns Represent 7 Kings) at Entrance to Emakhosini
Sacred Valley of Zulu Kings is home of White & Black Umfolozi Rivers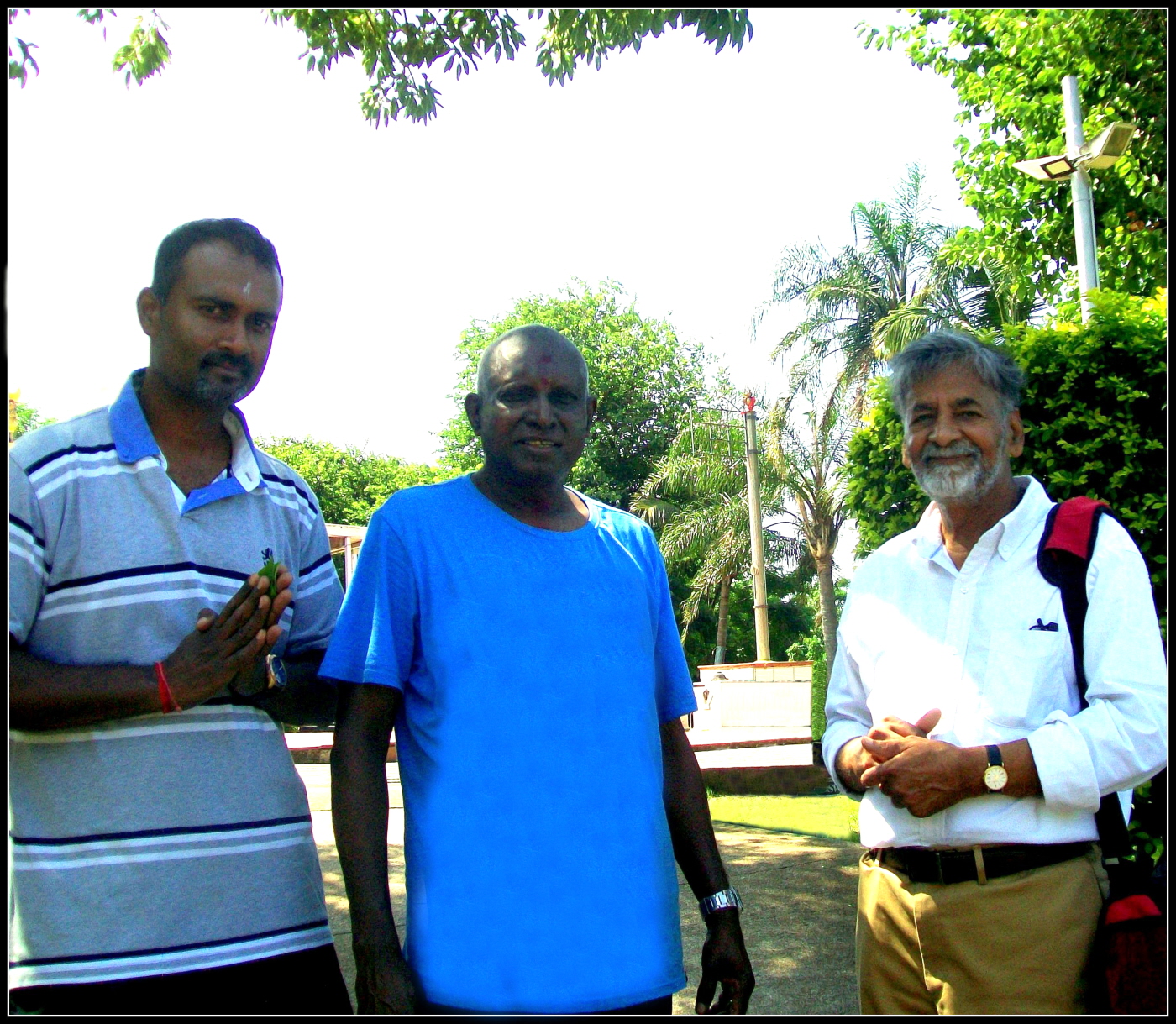 Due to the Corona Virus, Ajata and Virginia were advised by the U.S. consulate to leave South Africa a week early.

The people of South Africa as a whole are wonderful and Ajata and Virginia were disappointed in not being able to photograph and see: St. Mary's Church in Johannesberg where Bishop Tutu gave many stirring speeches while he was Deacon there. The Embrace Founders were also disappointed to not be able to visit Nelson Mandela's home in Soweto (near Bishop Tutu's home) and they were sadly unable to visit the Cultural Sculpture Garden of Vusamazulu Credo Mutwa in Soweto as well.
Theshin Naicker, Guru Dhanasagaren Govender (Priest) & Ajata
-
Umbilo Shree Ambalavaanar Alayam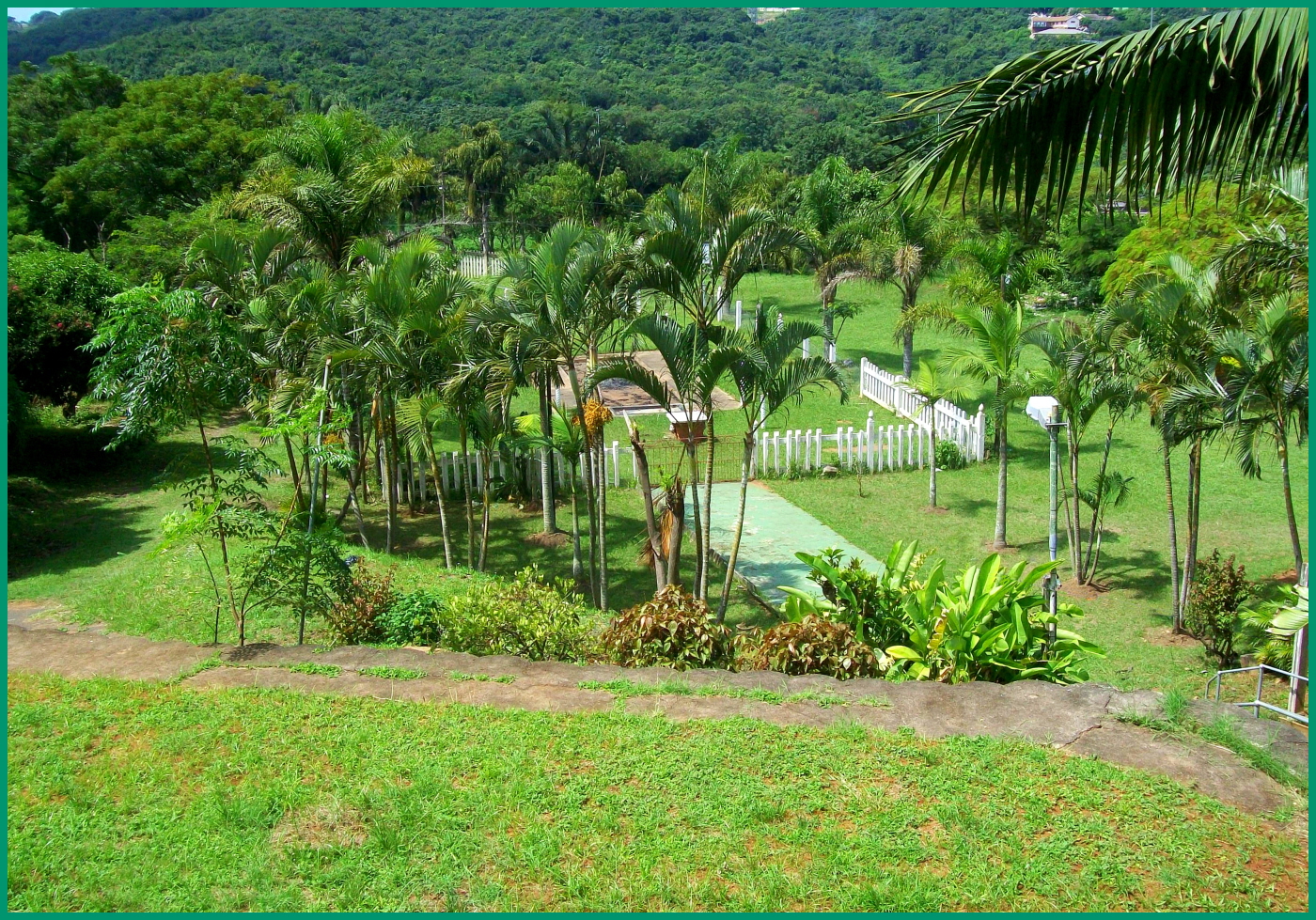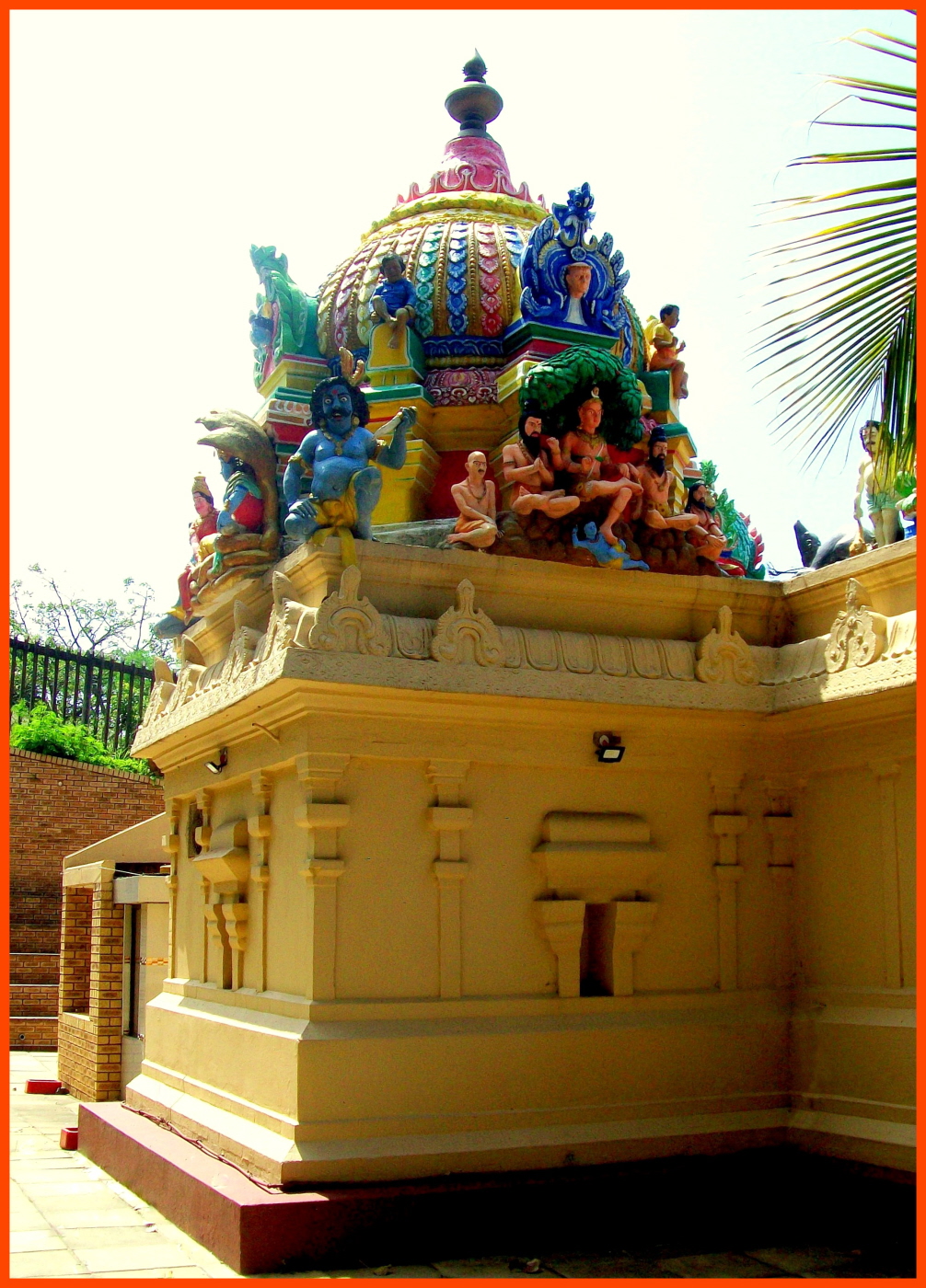 Umbilo Shree Ambalavaanar Alayam Hindu Temple (A National Monument)
Umbilo Shree Ambalavaanar Alayam Temple - Fire Walking Area - Durban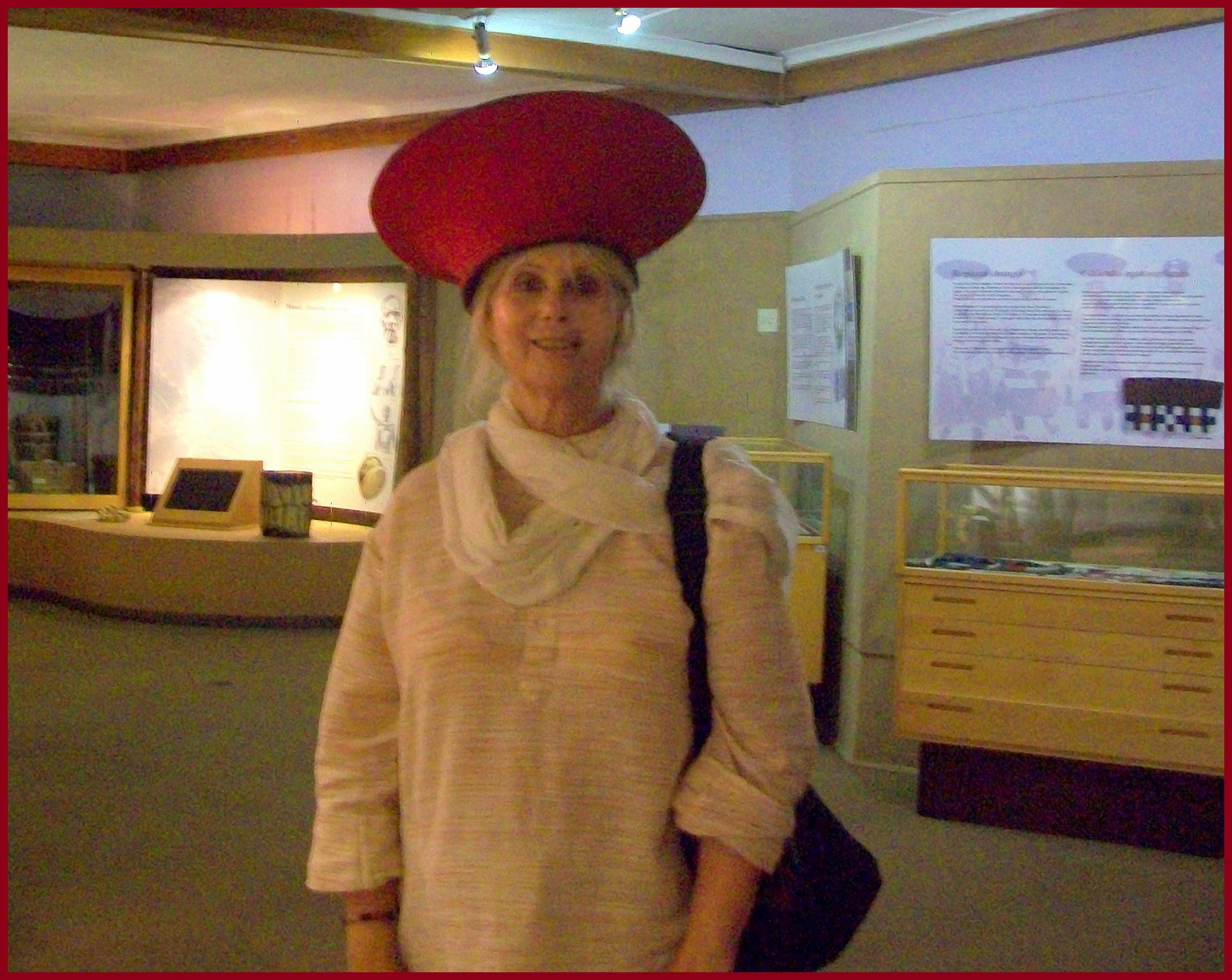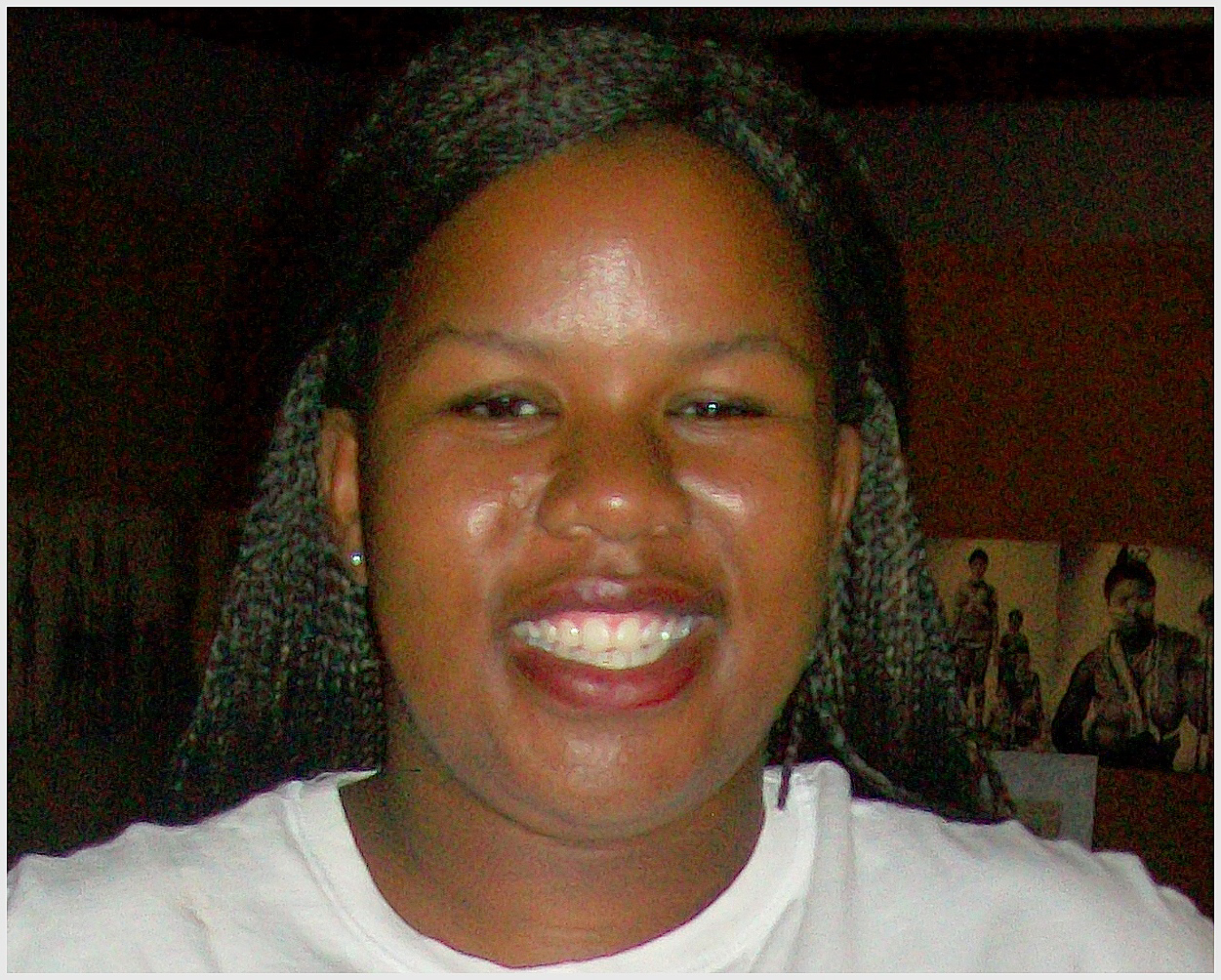 Virginia Whose Lovely Museum Guide Decided It Would Be Hiliarious to Put a Zulu Married Woman's Hat on Her Head (From the Display) - Shaka Zulu Museum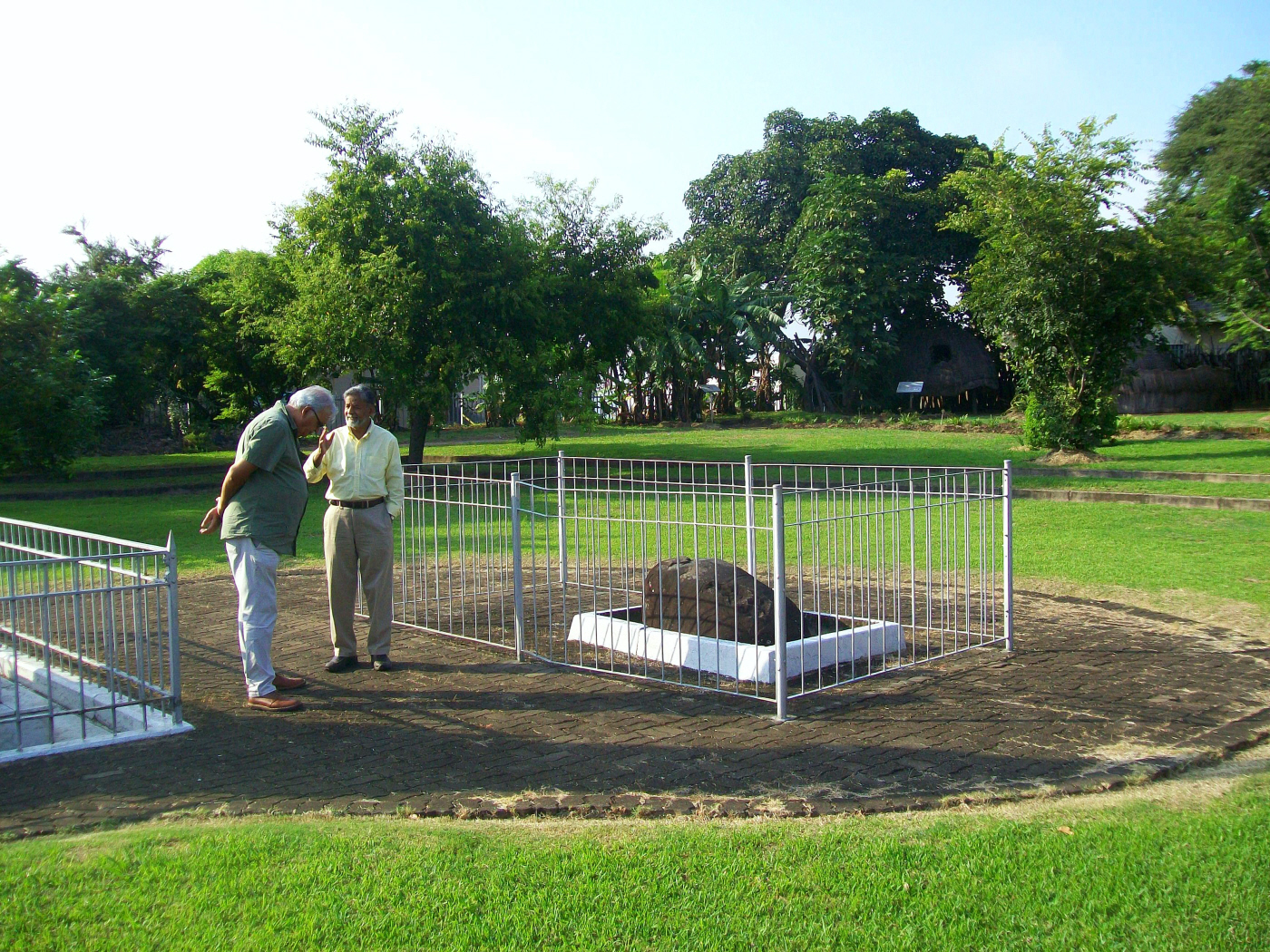 Shaka Zulu's Burial Site - Spiritual Ancestor to Many Zulu People - Greg (Our Guide) & Ajata - Zululand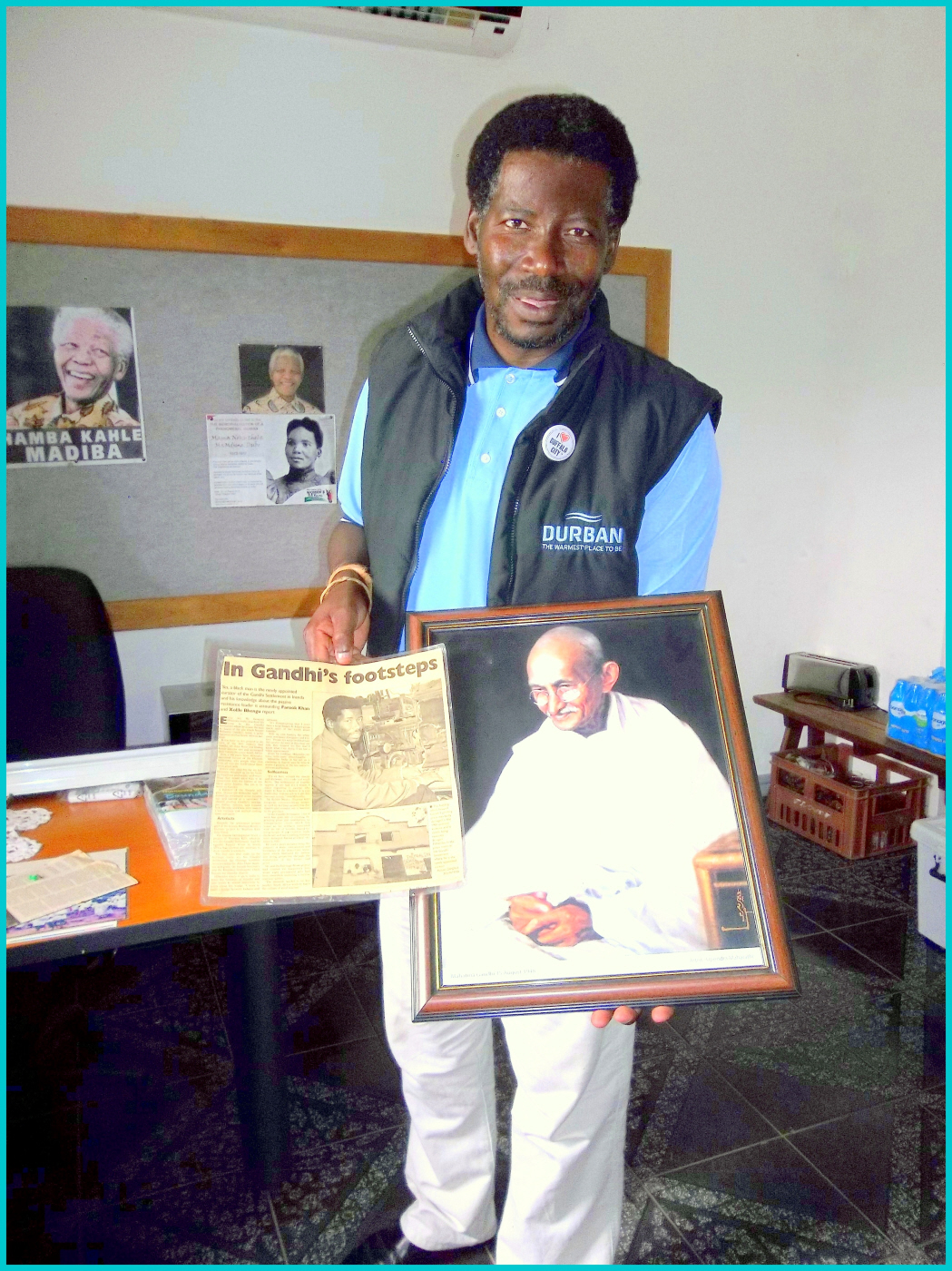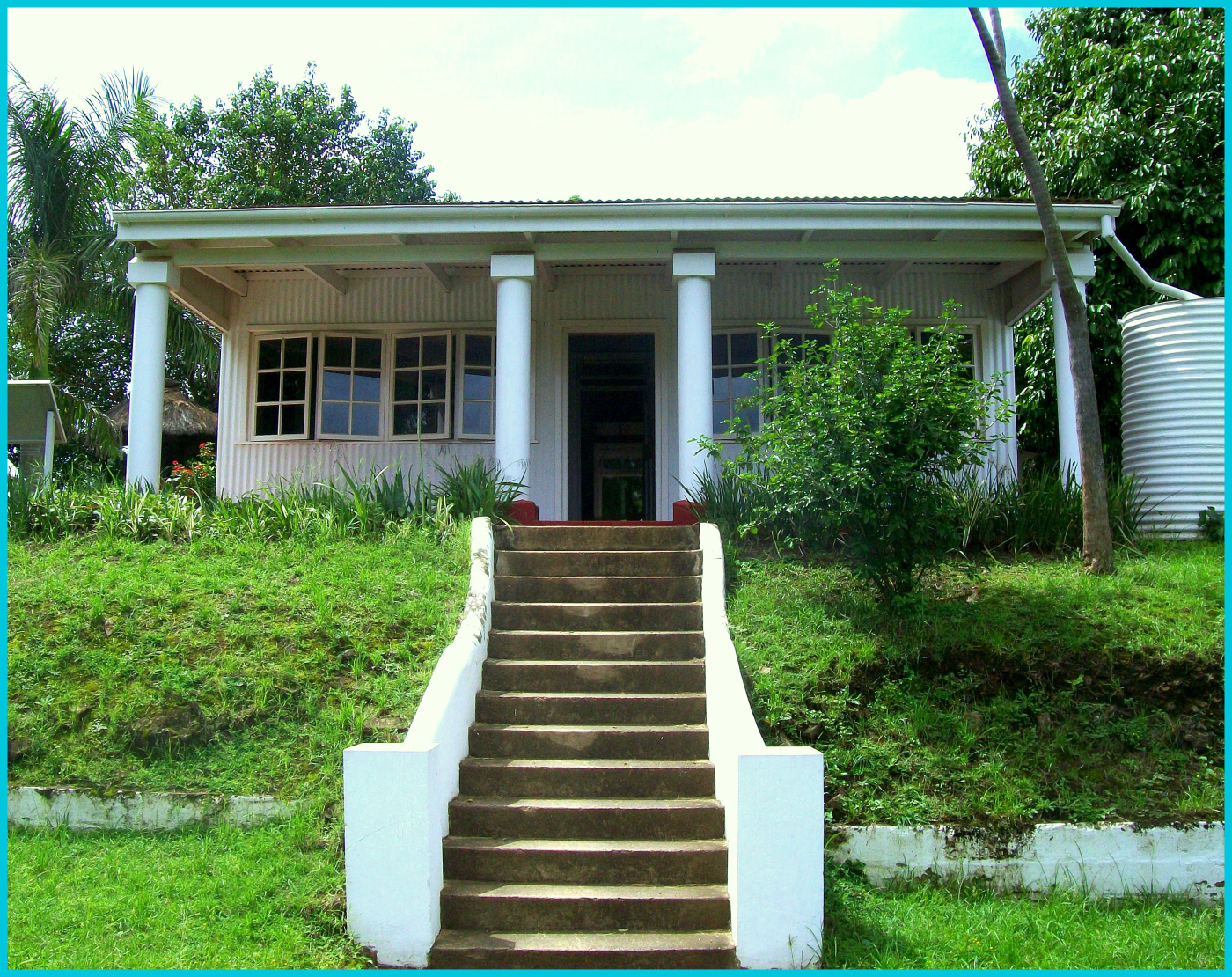 Curator of the Gandhi Home & Museum
- Phoenix Settlement
Mahatma Gandhi's Home Built in 1904 (This is a Reconstruction after Apartheid Campaigners Burnt it Down) where the Sathyagraha Movement Grew -
Phoenix, South Africa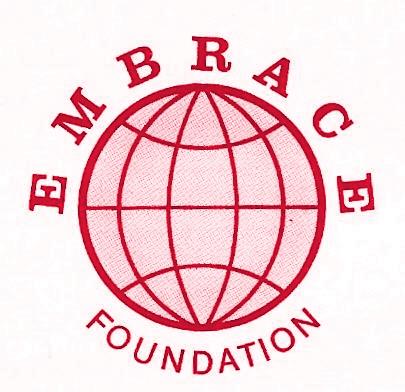 Embrace Foundation Retreat Center
Embrace.Foundation (skype messaging) - 011+1+212.675.4500 (New York)


Click to Email Us